Catch up Monday
Monday finds me resting up from a busy weekend. No time for posting. No time for finishing work in progress. There isn't even time to catch a breath. It's not the vision of retirement lifestyle that most of us  expect but it is what can happen when you try to push the envelope and grow. The weekend was busier than is typical but now that it is over, I'm pleased that I did it all.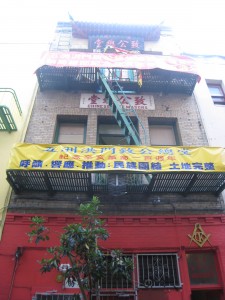 It started off with a San Francisco day trip on Friday. It's been six months since our first exploration and way overdue. We spent the morning walking Chinatown and North Beach and ended the day with oysters and drinks at the Embarcadero before catching the 4:30 ferry back home. Saturday, my wife took a riding lesson and I had a business seminar. Sunday I traveled back to San Francisco on BART for a WordPress Wordcamp. Quite a marathon!
It was worth it. 
Looking back over the weekend, it is hard to take it all in. Each day was working a facet of my lifestyle plan for retirement. The different elements of that plan don't usually rub together so tightly. This intensity of activity is something I try to avoid because it stresses me out but last weekend it all fell together and I got it all done. This intensity of activity normally makes me uncomfortable. This weekend went so fast that I didn't have time to think about it. I think I'm finally pushing past that barrier.
If you aren't getting better- you're getting worse. 
Life mastery is part of my of my retirement lifestyle plan. For me this means identifying the important elements that I want to have and then doing what it takes to make them happen. No more making excuses or deferring activity. The day trips to San Francisco to explore the richness of that city is a start but over time, longer trips to places far away. Business activity to generate more income to make those trips longer and more comfortable. Finally improving my communication skills- particularly as they relate to blogging. It all came together for me this weekend.
I've been letting the fun with my wife slip and that is just wrong. It's the reason I have this retirement lifestyle project and if it is not part of my current lifestyle then the plan is a failure which is why we went. It has been too easy to postpone and the excuses had to stop. I made the commitment and we went. The other events were uncontrollable. I'd made the commitment and so I followed through.
But Blogging? 
It turns our that the real stretch for me was Wordcamp. I didn't know what to expect. I didn't know what I would learn. I wasn't even sure if it was worth the six hour commute but I have been using the WordPress platform for over two years now, long enough to take its power for granted. I felt that Wordpess bloggers were pushing the envelope and represented the best of the field. If I wanted to push my blogging abilities , I needed to attend.
Come back for part 2.