Still pretty sparse this week.  Some daffodills on the wane and some with swelling buds.  The grevillea are beginning to bloom (first picture).  The are very attractive flowers but rather small and scattered on the bushes.  Still they add sparks of color to my hillside backyard.
At the bottom some new rose bushes this year after a disaster last year with all my new roses.  I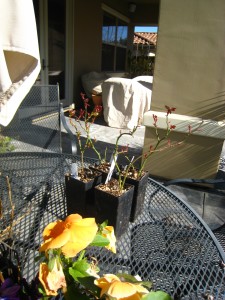 think I know what was wrong last year and I won't be using that product again.  These guys are own-root roses which I prefer.  They look really tiny compared to the bareroot plants from the nursery but they do catch up quickly and you don"t have the bud union to worry about.
Originally posted 2009-03-08 14:54:08. Republished by Blog Post Promoter