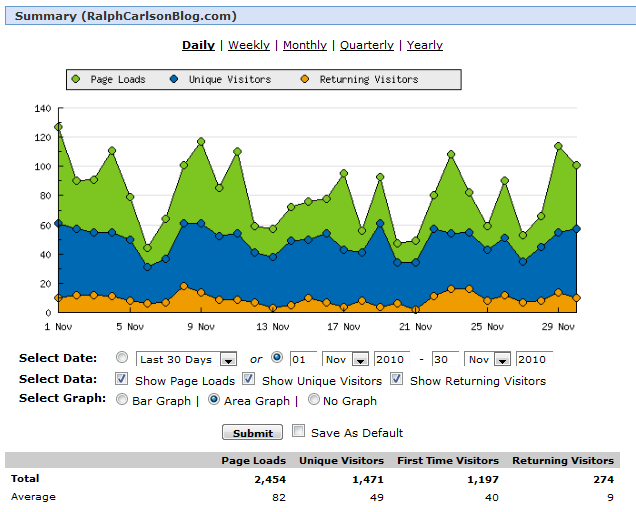 It is another disappointing month.  Every statistic is down slightly although it probably is within the statistical error.  I did not make any changes to the blog during November so I guess there is no reason to have more readers.  The encouraging news is that readers hold steady.  I interpret this to mean that current readers are engaged with the content.  I will be doing more marketing for the month of December, specifically searching for other blogs in my niche and adding comments.  A survey of my readers suggests that this is the main source of readers.
There is still no Google page rank.  I have no idea what it takes to get Google's attention or if there is anything that I have not done that I should do to get consideration from Google.  It is just one more thing that I do not know but at least I know that I do not know it.  Finally my Alexa score has improved from 949,666 in October to 722,905 in November.  This seems like substantial improvement but I don't understand what causes it to change, particularly when other wise the stats are stagnant.
With my commitment to a higher level of marketing in December, I am setting a goal to break out in the stats and reach an average of 15 returning visitors per day.  Tune in next month to find out how I do.