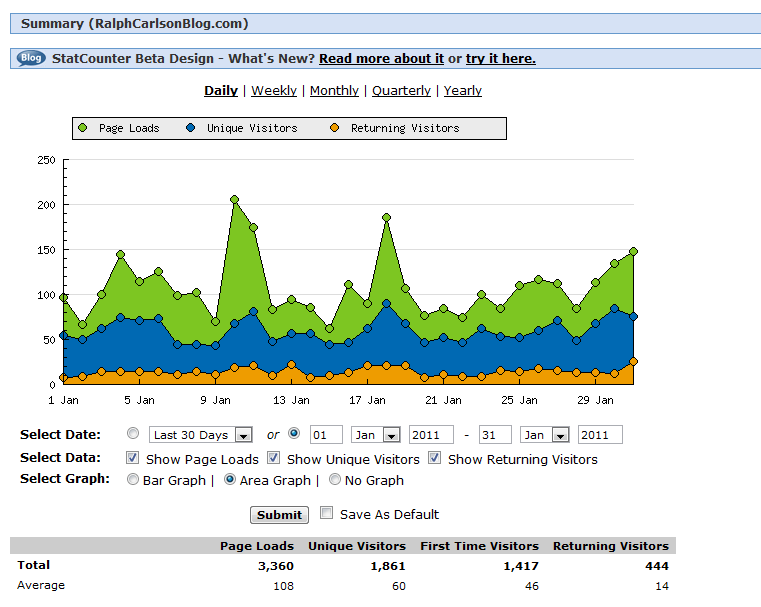 Stats are up!
Across the board this month my stats are up substantially.  Pageloads and returning visitors by over 40% and visitors by 30%.  I would love to say that this is the result of focus and better techniques.  And I would love to say that the quality of my content has improved.  Truly, I don't know.  I think that both of those statements are true and that the stats confirm this but there isn't any way to determine that it isn't a fluke, except to watch long term to see if this growth continues.  Likewise there is no way to determine that improved writing was a reason or whether better SEO deserves the credit.

Growth is good!
Still, this is what I have been working for.  It is a driver to keep up the content and learn better technical skills.  Thanks to all the bloggers that have helped me learn and especially a shout our for Dave Doolin and Steve Scott.  Blog Post Engineering provides a foundation for blogging excellence and Steve Scott Site provides inspiration that you can make money on the web.
Alexa continues to drop.
My Alexa score continues to improve plummeting again from 459,887 t0 275,832.  Still no Google page rank but I am starting to become indifferent.  I don't know what Page Rank means but so long as my readers grow, I can live without it.
Stay the course for February.
For February, I would love to maintain this growth.  I do not know if this is reasonable or not.  I will continue to work as I have worked in January.  February will tell me if I can sustain this momentum or not.