Continuing my post on our February visit to LA, we visited two more museums on Saturday. It seems like overkill perhaps but we are selective museum-goers. We have our picks and we don' feel compulsive about looking at everything.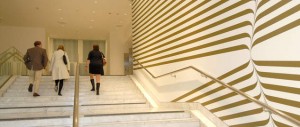 We started at the Getty where I made a strategic blunder when we (I) decided that walking from the garage to the museum was preferable to waiting 30 minutes for the train. Amazingly, my wife didn't object – until we were halfway up the drive – easily a mile and with a rather steep incline. Then I knew I was in trouble so when we finally reached the train station level, I steered her towards some tables to sit down. When we finally continued up to the entrance, we had easily eaten up the 30 minute.
This was only our second visit to the Getty. We had never visited while we lived in LA because of the hassle to reserve parking. I like the grounds and the garden, the galleries, less. We focused on the photography (my wife is a photographer) and the modern art (late 19th and 20th century). They don't really have anything more contemporary. So basically we took in the two sections and then hit the museum shop. Perhaps my favorite painting is this Van Gogh.
Then we moved on to the Norton Simon Museum in Pasadena. It had been years since we had visited and we enjoyed the collection so much, I can't figure out why we waited to long to return. It's a lovely museum, marred only by the inadequate on site parking and the unfriendly time limits on the street parking. Their modern and contemporary art collection is wonderful and comprehensive. For some reason I remembered the Stella's from my last visit but, alas, this visit they were not on display. We only had two hours by the time we drove to Pasadena, toured the parking lot several times and finally found a spot on the street but Norton Simon was hands-down the best museum visit for us and we will be certain to return.
The picture, by the way, is of the Hammer Museum, another museum we have never visited but must target next time.