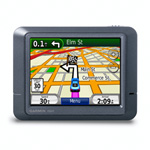 My wife got a personal navigation device for Christmas. She is not very open to new technology so I didn't have much confidence that she would really use it. I am happy to report that I badly misjudged the brilliance of the people that produced this device and my wife's interest in getting navigational assistance. It has a very intuitive interface and my wife has actually used it  solo to find a high school where she was photographing a basketball game. My son was impressed as well with how it tells you the speed limits as you drive.
Sunday, we needed to drive to Rocklin, maybe 20 miles away and we took Nuvi along mainly to see how her directions might differ from out normal route and to find out how easy looking things up might be on the fly.
We set out somewhat unprepared in not having the addresses of out destinations. Out first stop was our favorite breakfast place in Granite Bay. We (actually my wife since I was driving) tried to find it by name because it knows a lot of local places once you tell it the city you are going to. T O A S T …long pause with the hourglass Then she tried the center name and got two addresses – 4000 and 7000 Douglas. I guessed 4000 and Nuvi locked it in and began giving us directions following the route I was already traveling. Then about halfway there, she wanted us to turn left when I wanted to go straight (because you can't get where we were going by turning).
Nuvi is resilient, however. Once past the turn, she announced, "Recalculating." And proceeded to tell us to turn left at the next intersection. I ignored her and she patiently recalculated each time I failed to turn left until finally we were in agreement as we got to Douglas. She didn't object when we turned off for the restaurant and we turned her off while we enjoyed the best breakfast in the Sacramento area.
Resuming our journey, we thought that turning Nuvi off would reset and she would be ready for a new destination. Not Nuvi, she was still focused on getting us to the original (wrong location) and my wife was unable to get her to accept our second destination without entering a street address which was hard because we couldn't even remember the street name. As a result, she continued to try to get us to turn around all the way to Rocklin.
On the way home (Nuvi knows where we live) the battery was low and several time she lost satellite connection but she still woke up to tell us to turn.
On the whole I am very impressed with Nuvi. My wife who complains bitterly about the complexity of our entertainment system  has no complaints with her. I am impressed with the interface and the amount of information in the system. I can't wait for a chance to let her do her stuff in San Francisco where I always find myself stuck on one side of Market and unable to figure out what street will take me to the other side.
This week we will be taking her with us when we visit our old haunts in Los Angeles. Although we know out way around pretty well from living there 30 years, we are bound to go to some new places and give Nuvi another chance to show her stuff.