Time management struggles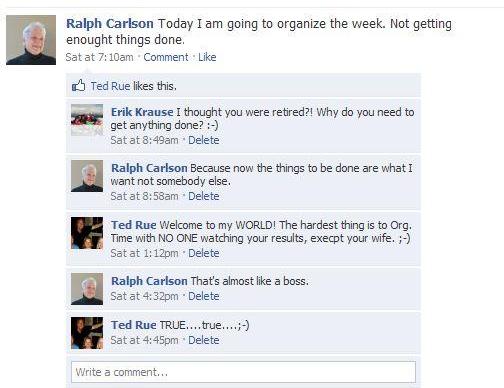 I have been struggling lately with managing my time better. Rather than focusing my efforts on the most critical activities, I tend to get diverted into the less critical and open-ended tasks that have unlimited potential to eat up time. I still have goals and priorities but I lack the hard deadlines that kept me focused at my job.
But why bother? You are retired.
In one of my infrequent attempts to use Facebook, I commented that I was going to dedicate this weekend to getting myself more organized. This caught the attention of one of my old co-workers who asked why I need to get things done after retiring. He was being funny but it is a good question. Why indeed?
Self discipline is hard work
In a work (employee) environment there are always corporate goals, objectives and deadlines. These are set mostly by others with little opportunity for an employee to control or modify them. My job was to meet those deadlines. That framework was always there to pressure me to keep going. The deadlines weren't always rational but my employer was paying me to meet his deadlines and I did. I didn't always agree with the objectives or the schedule but they weren't paying me for an opinion. They were paying me to meet them.
Easy on myself
As my own boss, it is different. I can slack off. I can let the deadline slip. I can soften the goals. In the short run, it doesn't matter. In the long run, however, I won't produce the income I planned or achieve the success I want. It is turning out to be a harder adjustment than I thought. I am apparently a lousy boss.
Tomorrow does come
Being your own boss is a true test of commitment and focus. You are the guy. There is nobody else to blame for failing. The only one who will win or lose is me so if I wimp out I don't have to explain to anyone. I can't get fired and it is so easy to rationalize (tell rational lies) to myself. It is so easy to say that I will make up tomorrow for slacking off today but much harder to do. When you make it easy today, it is harder to work tomorrow and easier to continue to put off the work that needs to be done.
How bad do I want it?
There is no magic bullet to make me keep my nose to the grindstone. I can't chain myself to my desk or lock my mind from distractions. I have to really want desperately to achieve my goals of more income and a web following and then put in the work that it requires.